Presents
BISS Champion Fetchnpoint You And Whose Army ET (AI)
Sire: Swe Ch, Norw, P L Ch, LV Ch Dewmist SilkVenture (Swe)
Dam: Supreme Champion Yellowfetch Whatz it To U {ET}
Whelped: 6th Nov 2011
Hips 1,1 Elbows 0,0 Clear Eyes (Nov '17) Clear Heart (Nov '12) GR PRA1 & PRA2- Clear


Alva Best in Speciality Show May 2014


Alva 2yrs old. Bitch Challenge & RUBOB Sydney Royal 2014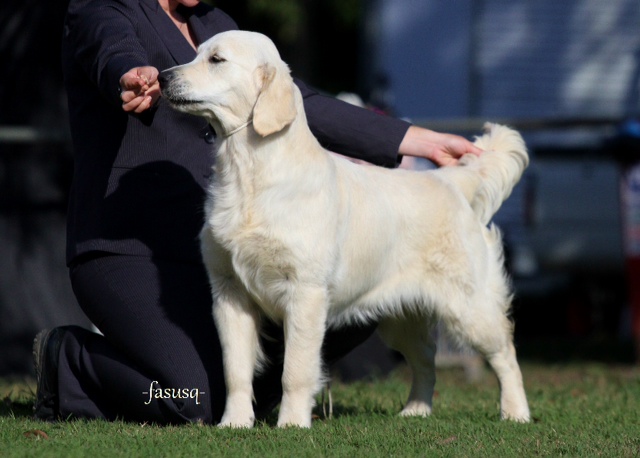 Alva 8mths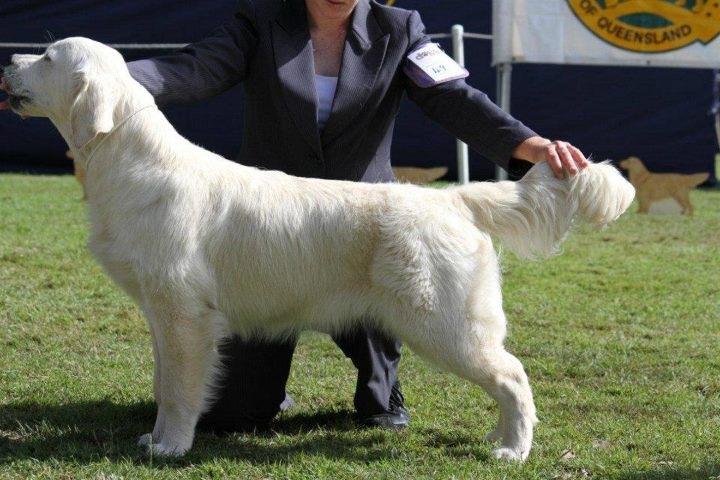 Achievements:
July 2012
sees us head to Queensland for the GRC show under Judge Mr John Derek Senior form the UK. Alva wins Best Minor Puppy In show, His critique of Alva "
8 month old very promising pale coated baby with sweet head and dark pigmentation. Good proportions throughout with excellent
shoulder angulations and good hind quarters. Moved very well with confidence. Happy show
girl."
August
sees us attend the GRC of South Australia under Judge Mrs Sandra Burkin-Green (UK). Alva was awarded Best Minor Puppy In Show. Her critique "
Appealing head, dark eye. Straight front with good reach of neck, well placed shoulders. Well off for bone and nice rear angulation. Moved well."



September 8th 2012

we attended a double
Championship show held by the Golden Retriever Club of NSW. Saturday's under
Jo Naylor (Frankby). Alva wins the puppy bitch class and later goes on to win Best Puppy In Show. Critique:

"
Very feminine bitch, beautiful reach of neck. Well laid shoulders into nicely angulated upper arm, good breadth of forechest, well-ribbed, short coupled. Lovely bend of stifle, short rear pasterns. Moved beautifully, with style."
Sunday the
9th of September 2012
under well respected Breeder & Judge Mrs Christine Ashton from Willowlawn Golden Retrievers UK. Alva wins Puppy female in Show. Critique: "
Well grown mature puppy with pretty feminine head, well constructed all through with super reach of neck, level topline & tailset, well angulated quarters. Beautifully presented in gleaming cream coat, good accurate mover."
WOW!! what a stella career Alva is having thus far. Alva has just completed her Australian Championship title, winning many classes in show along the way.
May 2013 ,
Golden Retriever Club of NSW held their Championship show under Judge & breeder Mrs Jessica Brown from Swifttreve fame in WA. She awarded Alva Best Junior In Show"
Stylish cream bitch with excellent flow from her neck into shoulders and good angulation in upperarm with level topline and good tailset, short coupled. Strong hindquarters. Pleasing head, good pigment and dark eye. Moved beautifully with style
"
August 2013

W
e flew the two team members to South Australia under Mrs C Collins from Erinderry Golden Retrievers( Ireland) where Alva once again wins her class & takes out Intermediate Female In Show "
Good size bitch, well balanced. Excellent front and rear angulation. Pretty head and kind expression, good pigment. Clean neck, good shoulder placement, good depth of forechest. Excellent spring of rib and short coupled. Good bone, neat feet and straight hocks. Good turn of stifle. Moved with drive. "
September 2013, Golden Retriever Club of NSW Judge by Mrs N Davidovic from Serbia( Retrievers of Golden Duck). Alva wins 2nd place in a huge Intermediate class, "

22month old Female, Very stunning, good proportions & good size! Beautiful head, kind expression, good pigment, strong reach of neck, good shoulders, excellent front, deep chest, good rear, strong topline, well set tail, excellent movement with good steps! Lovely temperament

"
2014

show season has begun with a BANG for Alva. In

March

we flew the dogs to Tasmania under Judge Dr Helen Almey from Arbutus Golden Retrievers UK. Alva was awarded Reserve Challenge Bitch and Best Intermediate In Show. Critique

" A lovely class. Balanced bitch, typical outline with good proportions, very feminine head with appealing expression. Correct neck going into good shoulders with a straight front, good topline, well bent stifles with good tail set. Moved truly with drive. held off strong competition to win the RESCC, her strong quarters with no sign of weakness in the hock giving her the edge today."
April

was Sydney Royal time, Australia's biggest dog show. Gundog specialist Mr Claudio De Giuliani from Italy awarded Alva the Bitch Challenge and Runner up Best of breed from an entry of over 120 exhibits, critique to follow.
May

we attended the 50th Anniversary of the GRC NSW under Mrs Delma Marshall ( Oaklodge Golden Retrievers) Alva was awarded the highest award of Bitch Challenge & BEST IN SHOW!! critique to come.
July

we drove to Qld for the Championship show held under Gundog specialist Mr Tord Lumborg (Swe). He awarded Alva Best Intermediate In Show "

Excellent type and topline. Good neck put down into well laid shoulders. Sweet head and expression. Well angulated. Good mover

"
August

we flew 2 of the team members to South Australia to attend the Championship show under Mr Bart Van Maren (Ndl) from Hellacious Acres Golden Retrievers. For the third year in a row Alva wins her class And wins Best Intermediate Female in Show "

Depicts excellent breed type ans symmetry. Well developed and of good size and substance but still feminine. Very well presented, in super coat and condition. Gorgeous head and expression, super neck and head carriage, Superb layback of shoulder with good front assembly. Excellent bone, very well angulated behind. Good length of stride

"
Alva has achieved all this and is still not 3 yrs of age.We think this girl will have a very bright future.
Pedig

ree

Parents

GrandParents
GreatGrandParents

SIRE

Swe Ch, L V Ch, Norw, P L Ch Dewmist SilkVenture (Swe)

SE U(U)CH NO UCH Cheer's Way of the World

NU Ch., NV '90 Shanlimore Baronet

Cheers Nathalie

Swe Sh Ch, NordW-03, SweW-04, VWW-08 Styal Silksilla

Eng SH CH Remington Rory

Styal Scottish Symphonia

DAM

Supreme Champion Yellowfetch Whatz It to U {ET}

Dewmist Silversong (Imp Swe)

SU(U)CH NORDV-03 NUCH, VWW-08 Erinderry Gaelic Minstrel

SuCh Dewmist Silveretta

Yellowfetch Whatz Uup

Avonbreeze Heedless(AI)

Ch Yellowfetch Liberty Lass