Presents
MBISS, BIS, RUBISS, RUBIS Champion Giltedge Do You Like Apples {AI}
Sire: Port Ch, Dan Ch, Spa Ch, Cro Ch Ritzilyn Rick O'Shay (ESP)
Dam: Larbellah Cheer Leader
Whelped: 8 July 2013
Hips 1,3, Elbows 0,2 Clear Eyes (Nov '17), Clear Heart ( April '14), Ichthyosis Carrier, GR PRA 1 & PRA
2- Clear

Turner 2nd place open dog GR National 2017



Turner moving his way to Best In Show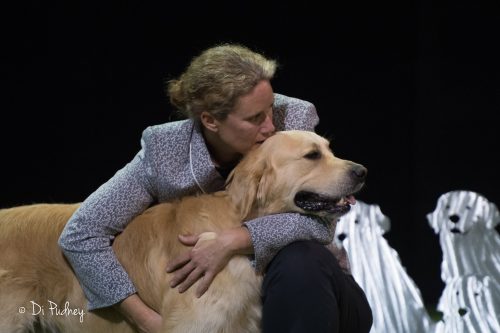 My ❤️❤️❤️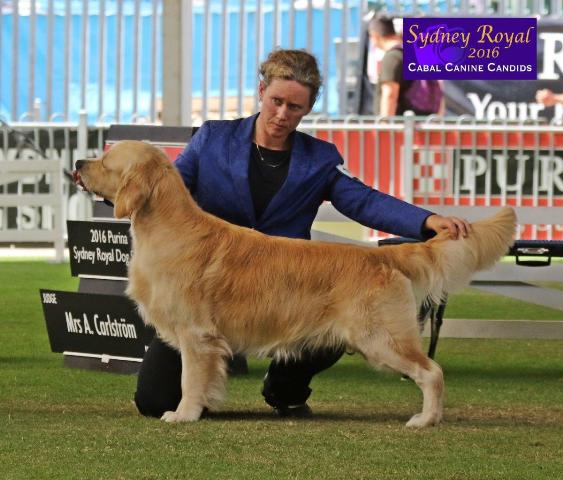 Turner 1st place Intermediate dog Sydney Royal 2016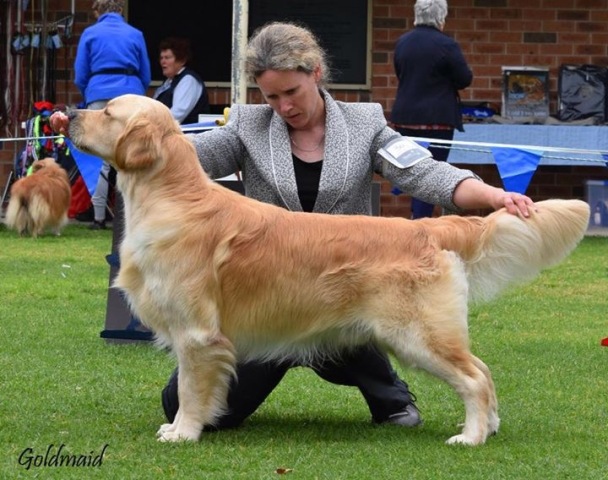 Turner 1st open dog & RESCC Sydney 2015 (26 mths)
Turner with His breeder & Co-owner Kim Handley winning Best Junior In Show at the 9th G R National Nov 2014.


Turner winning RUBISS in Perth 2014 @ 14mths of age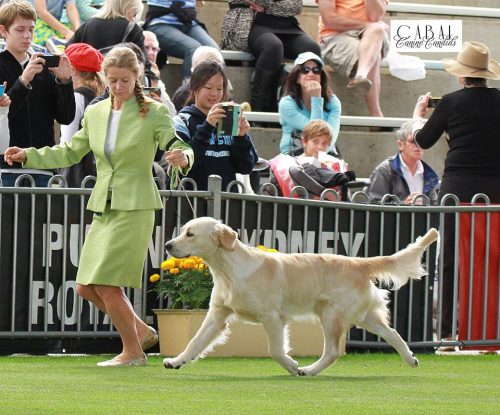 Turner on the move 8 months old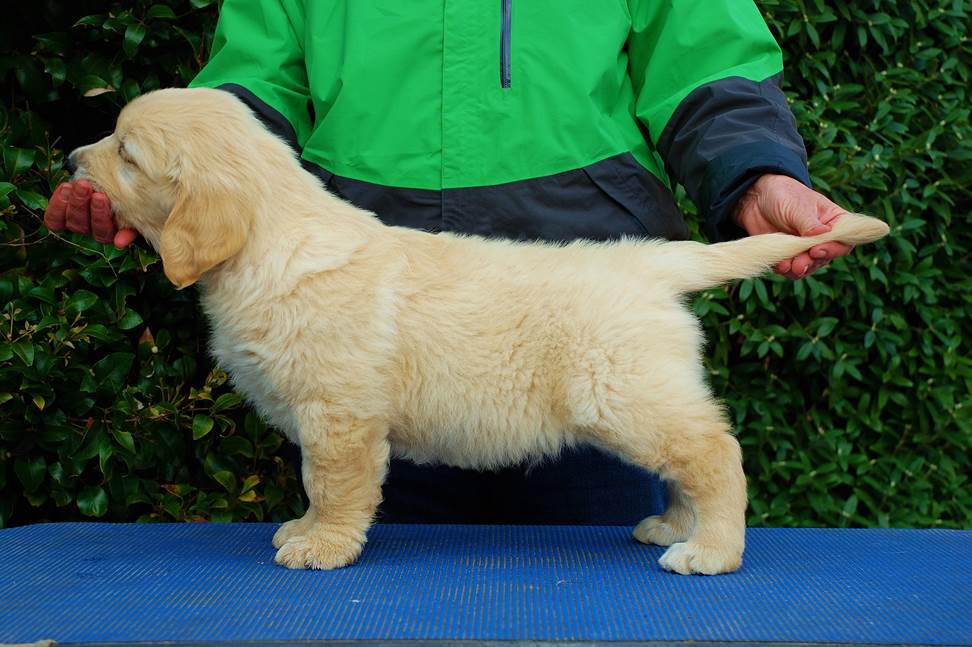 Turner 8 weeks


From limited showing, Turner has done extremely well. He has won 3 Best in Show Speciality awards &1 All breed Best In shows, plus a Runner Up Best in Show Speciality & All breeds. He is also a National class in Show winner.
He was awarded Best Puppy Dog in Show under Mrs L Pope UK (Chilzer) at the Golden Retriever Club of NSW 50th Anniversary show held in
May 2014
. Her critique of Turner "
Promising well grown puppy, balanced head with the gentlest expression & dark pigment. Correct front assembly, clean strong neck into well laid back shoulders with correct upperarm, level topline, good lenght of rib, correct hind angulation. Moved well with good front extension
"
June
2014 sees the team travel to Qld for the Ruby Anniversary show under gundog specialist Tord Lunborg (SWE). He awarded Turner, who had just turned 12 months Best Junior Dog in Show "
Excellent type. Well shaped head. excellent front with long upper arm. Excellent neck into well laid shoulders. Good coat. excellent angulation."
Sept

2014 we flew to Western Australia with 2 of our boys to attend the Golden Retriever Club of WA Championship show under Mrs Janet Barrow (UK). She awarded Turner at the tender age of 14 months Runner Up Best In Speciality show (to his uncle Hodge- Ch Larbellah Team leader owned by Kim Handley) and Best Junior In Show."Great balance on this quality 14mth old, who appealed enormously for his unexaggerated outline. Most beautiful head and expression, good bone and cat feet. Good length of neck, flowing into withers and with correct forehand assembly. good depth of chest for age, short coupled and with a level topline and correctly set tail. firm and well developed quarters, with well muscled stifles. Moved with good head carriage and plenty of drive. Res Best Dog & Res BIS"
November
2014 we attended the 9th Golden Retriever National held in Victoria under Mrs Nancy Talbott ( Belgold USA). Turner wins Best Junior In show @ 15 months of age.
"Really lovely breed type, his coat is just about exactly what a Golden Retriever's should be. Very nice head, he really excels in side gait, beautiful feet – exactly what the standard calls for. Lovely forechest and return of elbow. Really outstanding youngster. A pleasure to have him in the class."
March 2015
we once again attended the Golden Retriever Club of Tasmania Championship show under Judge Mrs Margaret Bourne from SA. She awarded Turner Best Intermediate In Show
" Good sized dog with strong boning and carried himself with presence into the ring. Well-laid shoulders balanced by strong hindquarters. Strong straight front legs with prosternum flowing to deep in heart, good spring of rib and well-ribbed back. Masculine head, correctly proportioned with balance of muzzle to skull on good reach of neck. Ground covering gait, holding a level top-line."
Whilst we were in Tasmania we attended an all breeds show. Turner was awarded BEST IN SHOW under group Judge Mr John Rowles & G/S under Mrs L Rowles. unfortunately no photos were taken as it was just too hot.
Septemeber
2015 we flew to Perth for the Golden Retriever Club of Western Australia Championship show under Judge Ms Su Jolly( Kerrien ) from the UK. She awarded Turner BEST IN SHOW & Intermediate in Show in a quality lineup of exhibits. Her critique "
What a smasher in beautiful coat and condition, so well balanced, lovely head & kind eye, well laid shoulders onto a level top-line with good tail set. Correct angulation both front and rear, moved with purpose and drive. Loved him and delighted to make him my best dog & Best In Show"
Also in
September
was the Golden Retriever Club of NSW Championship show Judged by Mrs Maragret Hean from New Zealand ( Arangold). Turner was entered in the open class for this one & He held his own and won Best Open Male in Show, pipped at the post by his sister Ch Giltedge Theres a Butterfly (Tina) for Runner Up Best In Show .Margaret's Critique
"Lovely mid gold dog with beautiful boning, level topline, balanced angulation front and rear. Very nice head. Long ground covering stride – looked as if he could keep going all day"
September
2016 sees the team fly to Western Australia under Judge Mr Wayne McGrath (Alnclair) Once again Turner was our star of the day winning Best in Show & Aus Bred In show. Mr McGrath's comments
"Loved this boy's overall balance. Very strong topline which he held on the stack and whilst moving. Tight cat-like feet. balanced masculine head with kindly expression & full pigmentation. Effortless movement around the ring, although he had a slight tendency to converge when moving away. Good ear set, correct bite and good clean muscular neck. Coat in good condition, presented and handled very well."
Once again we Thank his breeder and co-owner Kim Handley for allowing Turner to be apart of our family.
Frozen semen available.
Pedigree

Parents

GrandParents

GreatGrandParents

SIRE

Port, Dan, Spa, Cro Ch Ritzilyn Rick O'Shay (ESP)

Uk Sh Ch Ritzilyn Brandon JW (UK)

UK Sh Ch Perrimay Hugo Of Fenwood (UK)
UK Sh Ch Ritzilyn Stage Door Jenny (UK)
UK Sh Ch Pearlbarn Periwinkle For Ritzilyn JW (UK)
UK Ch Ritzilyn Cockney Robin (UK)
Stanroph Sandancer For Pearlbarn(UK)

DAM

Larbellah Cheer Leader

Ch Acacian Special Event
Avonbreeze McLeod (AI)
Beaucroft Madonna
Ch Giltedge Angel Dust
Ch Standfast Dream Ticket From kerrien (Imp UK)
Yellowfetch Pixie Dust CCD