Presents
Champion Giltedge Cat Got Your Tongue ET
Sire: MBISS, MRUBISS Ch Goldew Southern Son
Dam: Giltedge Catch You Later
26th January 2013

Hips 2:1, Elbows 0:0, Eyes clear (Oct'21), Heart clear, Ichthyosis Normal, GR PRA1 & PRA2- Clear
| | |
| --- | --- |
| Felix 3yrs old | Felix on the move Sydney Royal March 2016 |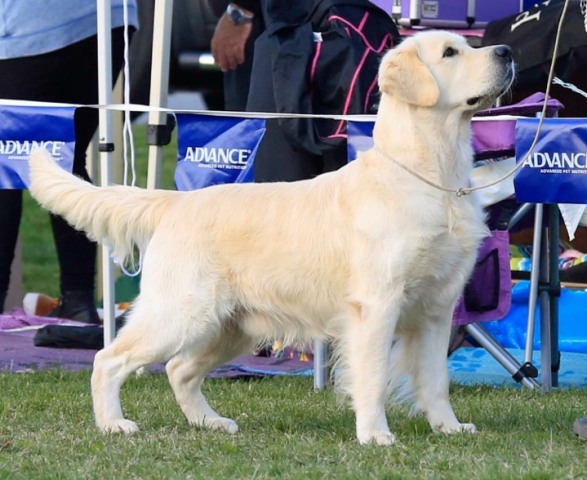 Feix 2.5yrs free standing

Felix with his 3 owners after winning RESCC at the 9th Golden Retriever National Nov 2014 @ 22 months of age.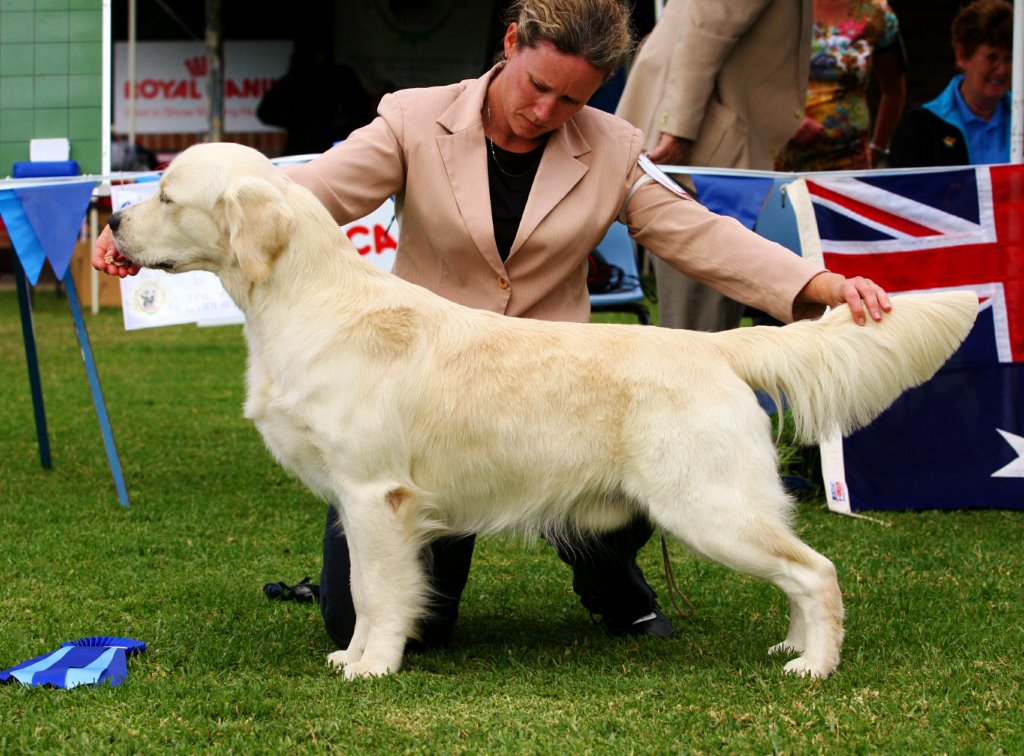 Felix 15mths old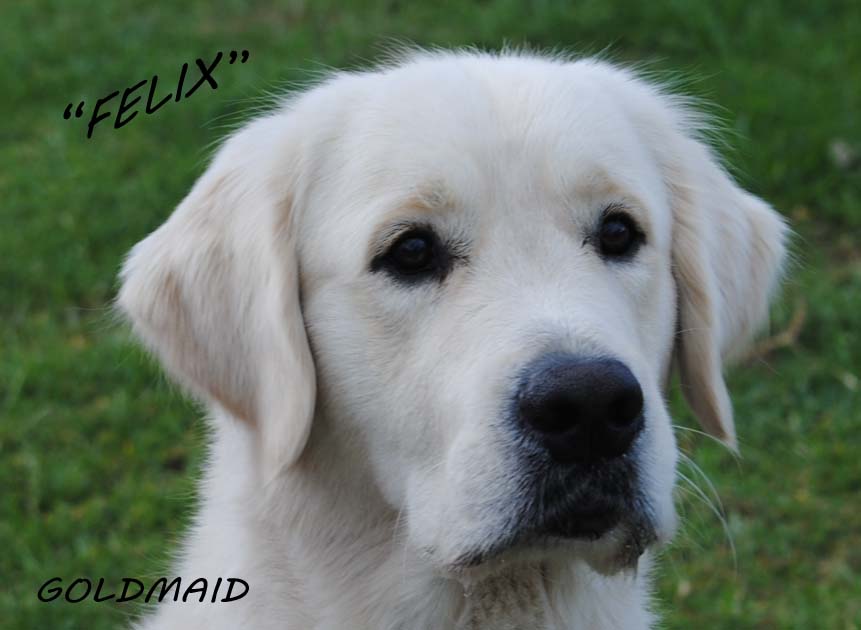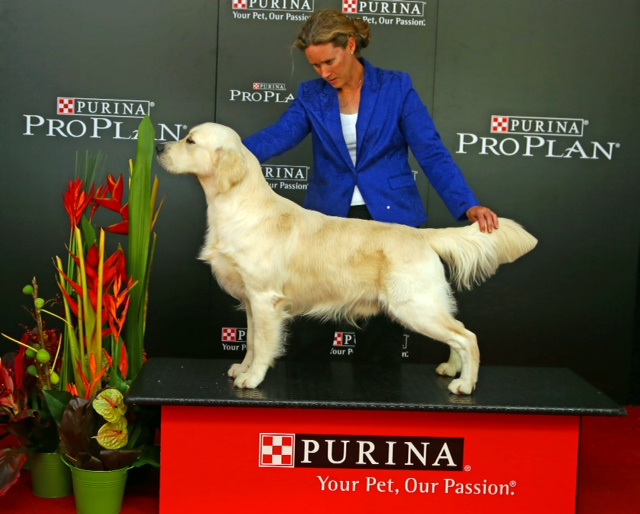 Felix 14mths old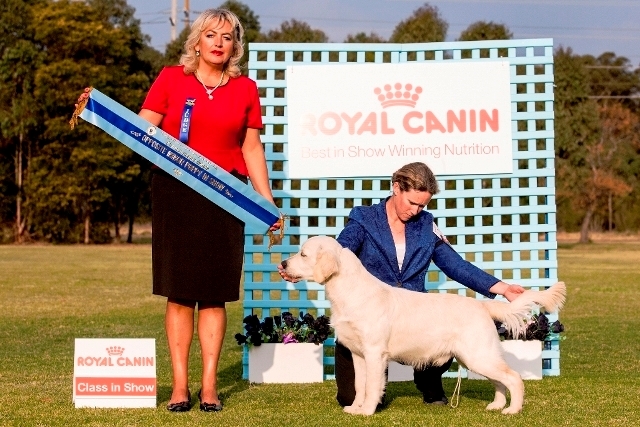 Felix 7mths old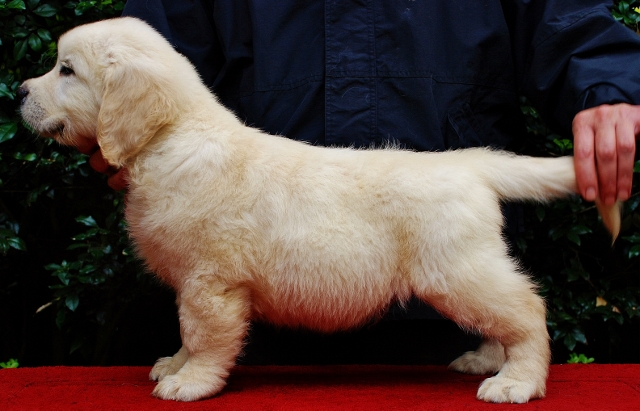 Felix 8 weeks


August
3rd 2012: Golden Retriever Club Of South Australia, At only 6mths old Felix wins BEST Minor Puppy in Show under well respected breeder & Judge Mrs C Collins (Erinderry Golden Retrievers) "
Beautiful 6 months old boy, Good size with excellent reach of neck leading to well placed shoulders and good length of upper arm. Level topline and tailset. Excellent turn of stifle and good straight hocks. Lovely head and expression with excellent dark pigment. Moved with good stride."
One week later we attended the Brisbane Royal where Felix wins BEST Puppy of breed. He competed against puppies up to the age of 12 months old. Judge was Mrs P. Heikkinen- Lehkonen (Finland)
Felix wins BEST Minor Puppy In show at the NSW Gundog Show held 18/8/13 in Sydney under Gundog specialist Mrs B Mangin(Qld)
NSW Golden Retriever Club Show 8th of

September

, under Judge Mrs N Davidovic (Retrievers of Golden Duck, Serbia). Once again,Felix takes out another Minor Puppy Dog in Show award "

Beautiful 7month old Boy with a very impressive head, excellent proportions, kind expression, dark eyes & good pigment! Strong masculine neck well set, strong bones, straight front legs, deep chest, shoulders laid back, level topline, excellent front and rear angulations, well set tail, good coat condition, lovely temperament, good balance & free movement, excellent for his age!"
October

2013 we travelled to the Victorian Golden Retriever Club show under well known breeder & Judge

Mr Borge Espeland (Norway). Felix wins Best Puppy In Show
"

8.5 months old. Lovely outline. Excels in head and expression. Lovely raise and length of neck. Nice

forechest. Good body for his age. Strong topline. Excellent hindquarter. Typical mover"
To finish off the Speciality show season for 2013, Felix wins Puppy In show at the Southern Gundog show under well respected veterinarian & canine Breeder Dr K Hedberg (NSW).
March 2014

brings the first speciality show for the year. We

t

ravelled to Tasmania under Dr Helen Almey (Arbutus Golden Retrievers UK). Felix wins Best Junior In Show.

"14mths, Lovely balance, excellent bone & good condition, masculine head with good pigment, good topline, well angulated fore & aft, good drive"
May

2014 The Golden Retriever Club of NSW holds a double show to celebrate its Golden anniversary. Judge Mrs Delma Marshall (Oaklodge Golden Retrievers) awards Felix Best Junior In show, Critique to come.
The 2nd show with Judge Mrs Liz Pope (Chilzer Golden Retrievers UK) awarded Felix Best Junior Dog in show "

Masculine head which was well chiseled & balanced with a soft expression, dark pigment & good ear set. Strong clean neck into well angulated shoulders, short coupled, level topline. Moved out very well covering the ground effortlessly

".
July

2014 The team attended the Golden Retriever Club of QLD Ruby show. Felix was awarded Best Junior Dog in Show under Filip Johnsson (Daintys) Sweden "

Excellent dog with a beautiful head, excellent neck, topline, tailset and angulation front and rear. excellent thighs, bone and feet. Lovely mover and presented to perfection. Coat not in full bloom

."
August

2014 @ the Golden Retriever Club Of South Australia under Mr Bart Van Maren (Hellacious Acres NDL) Felix wins Best Australian Bred Dog In Show "

Lovely type with a most pleasing well chiseled head, Excellently made and balanced throughout, great reach of neck, giving super head carriage. Well angulated front and behind. Strong topline. Should have a great future

."
November

2014 We attended the 9th Golden Retriever National in Victoria under Mrs Nancy Talbot ( Belgold USA) Felix wins the largest class of the day of 34 exhibits and goes on to win the RESCC and Best Intermediate Dog In Show. Mrs Talbot critique "

Very hard to fault this dog at all, He has one of the best front assemblies I have ever found. lay back of shoulder, forechest, return of elbow- makes me knid of emotional actually. Beautiful topline, neck into topline, beautiful tail set, bend of stifle, strong hock, beautiful feet and head. This dog is just fabulous! Excellent coat type. really good Golden Retriever type, it is a pleasure."
August

2015

we travelled to South Australia under Judge Mrs Ans Van Leeuwen (Netherlands). Felix wins Best Intermediate in Show "
Lovely boy presented in good coat condition, nice head and expression, good length of neck, super angulations,excellent forechest, level topline, good tailset, good bone and feet, moved well."
September

2015 We attended the Golden Retriever Club of NSW Championship show under Mrs Margaret Hean from New Zealand. She awarded Felix Best Intermediate Male in Show "
Stunning front and rear angulation, beautifully balanced. Well let down hocks, great topline, kindly head & expression. Moved with drive, very obviously loves his mother, couldn't take his eyes off her"
We Thank Kim Handley for entrusting this promising young man into our family, I'm sure we will do you proud.
Frozen semen is available.
Pedigree

Parents

GrandParents

GreatGrandParents

SIRE

Ch Goldew Southern Son

Ch Larbellah Take The Lead

Ch Acacian Special event

Ch Giltedge Angel Dust

Goldew Jubilation

Aust Ch & Nz Ch Dykinta Grand Slam

Goldew Jubilee

DAM

Giltedge Catch you later

Ch Burragundy Brace Yourself ET

Grand Ch Fetchnpoint Knee Jerker ET

Ambermist Keepsake

Giltedge Serena

Dewmist Silversong (Imp SWE)

Giltedge Poetry In Motion