Presents
RUBISS Champion Giltedge Roll Out The Red Carpet

 CCD RN ET {AI}


Sire: Int/Spa/Port/Dk/Gbz/Swe/Nor/Pt.Gr. Ch Mad about You De Ria Vela (Esp)
Dam: Larbellah Cheer Leader
Whelped: 16th September 2014
Hips 1,2 Elbows 0,1, Eyes clear( Oct '20) , Heart clear, Ichthyosis Carrier, GR PRA1 & PRA2- Clear

Lonnie wins Bitch challenge and Runner Up Best In Show August 2018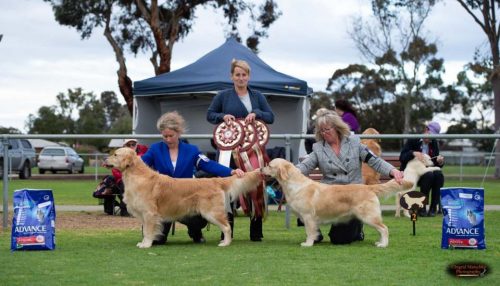 Turner BIS Lonnie RUBIS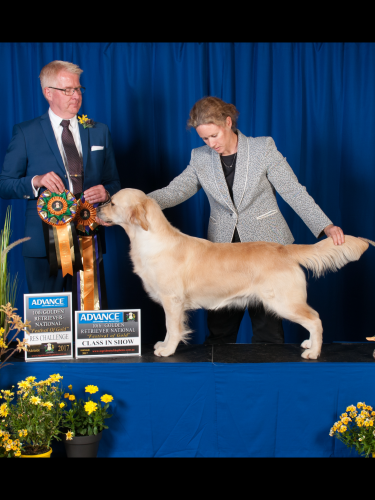 Lonnie wins reserve challenge and Intermediate In Show GR National 2017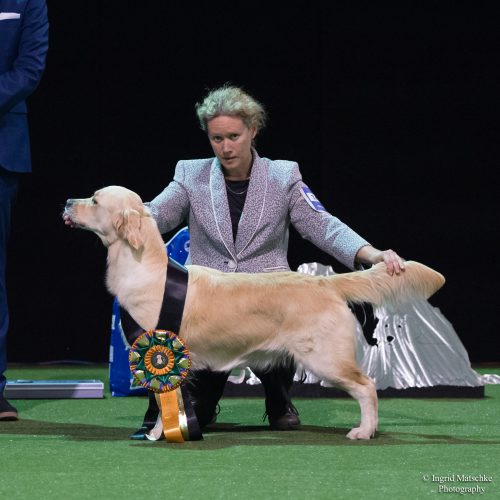 ---
| | |
| --- | --- |
| Lonnie on the move 18months old. | Lonnie RUBOB Sydney Royal 2016 |
Lonnie RESCC Melbourne Royal 2015 (12 mths old)




Lonnie 10 months

March 2015

Lonnie attends her first speciality show in Tasmania, the judge was Mrs Margaret Bourne from SA. Lonnie was awarded Baby Puppy in Show

" What a promising youngster. Lovely frame to grow onto. Beautifully balanced and sweetest of heads with lovely dark eye. Good length of neck, level toplineand correct tail-set. Lovely little mover."
August

2015 We attended the Golden Retriever Club of SA under judge Ms Ans Van Leeuwen from The Netherlands. Lonnie was placed 2nd in the puppy class. "
Lovely puppy bitch,presented in good coat condition, pretty
head and expression, good reach of neck, well layed back shoulders, excellent angulations, level topline, good tailset, good bone and feet, moved well."
September

2015 the team flew to Perth to compete at the Golden Retriever Club of Western Australia. Lonnie was awarded Best Puppy In Show at both Championship & open shows. Judge for the Ch show was Ms Su Jolly from the UK.

" Nice type, lovely head and dark eye, straight front, good feet, good width of skull and ear set, nice lengh of neck well laid shoulders, level topline and tail-set. Moved with drive"
Also in September we showed the dogs at Melbourne Royal under Mr Rui Oliveira from Portugal. He awarded Lonnie Rescc from the Junior class behind her half sister Ch Giltedge Theres A Butterfly (Tina) in a full line up of quality bitches. She later went on to win Best Junior of breed.
May 2017 sees us attend the 10th Golden Retriever National hosted by the GRC SA. Judge was Mr Kjell Svensson from Sweden. He awarded Lonnie 1st pace intermediate Bitch, RESCC & Intermediate In Show. His critique of Lonnie CH. GILTEDGE ROLLOUT THERED CARPET CCD RN "Outstanding winner of this class! Lovely outline and beautiful lines. Very good head and expression. Well set neck into good shoulders and good length of upper arm. Fantastic topline. Excellent spring of ribs. Powerful hindquarters. Lovely coat. Moves very correct and effective without any exaggerations."
August 2018 we attended the GRC SA under Judge Mary Neil ( Moloko) from Scotland. Mary awarded Lonnie 1st Place Australian Bred class, Best bitch and RUNNER UP BEST IN SHOW to her half brother Turner. Ch Giltedge Roll out the Red Carpet (ai) CCD RN ET – S Stephens & K Handley & T Platt BCC and RU BOB. "Darker coated bitch, loved her type.  Balanced throughout.  Lovely head and kind expression.  Textbook front assembly, level topline, tight elbows, neat feet, good tail set and short neat hocks."
2 weeks later was the Golden Retriever Club of NSW show under world renowned breeder judge Mrs Lynne Hennessy from Ritzilyn fame UK. she awarded our girl Lonnie Best Australian Bred female in show from a lovely entry of females.
Pedigree

Parents

GrandParents

GreatGrandParents

SIRE

Int, Spa, Port, Dk, Gbz, Swe, Nor, Pt Gr. Ch, Nordic W Ch Mad About You De Ria Vela

Int Ch, Int Sh Ch, Lux-Dk-Ch-Dt.-VDH-S-Fr.Ch Ashbury Angel Heart( FRA)

Int Ch, Fr Ch, Lux Ch Taram du ois de la Rayere
Ashbury Summer Sun
V-EW'09, Int, Spa, Port. Nativegold Diamond Forever To Ria Vela
Ronjalee Ragamuffin At Motlaisa JW
Nativegold Apache

DAM

Larbellah Cheer leader

Ch Acacian Special Event
Avonbreeze McLeod (AI)
Beaucroft Madonna
Ch Giltedge Angel Dust
Ch Standfast Dream Ticket from kerrien (Imp UK)
Yellowfetch Pixie Dust