Champion Happybear The Cats Whiskers (AI)
Sire: Ch Giltedge Cat Got Your Tongue ET
Dam: Ch Ralun Lasting Touch (AI)
Whelped: 3rd October 2017
Hips 3,3 Elbows 0,0 Eyes clear (Oct '21) Heart clear (Oct '18) Ichthyosis Normal, GR PRA1 & PRA2 clear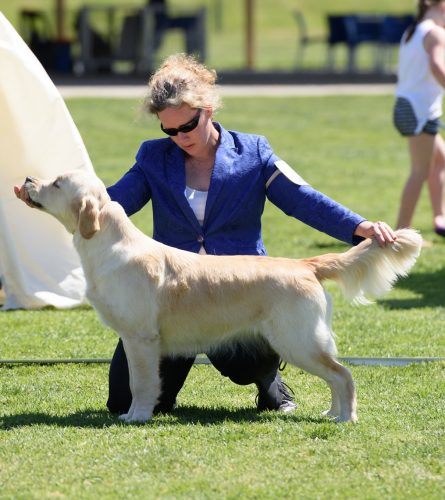 Kitty Junior In Show GRC VIC October 2018( 12 mths old)  Photo by Ingrid Matschke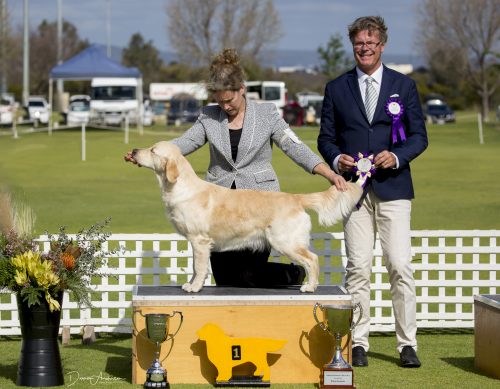 Kitty wins Champion puppy In Show under Henric Fryckstrand (Swe) 11mths old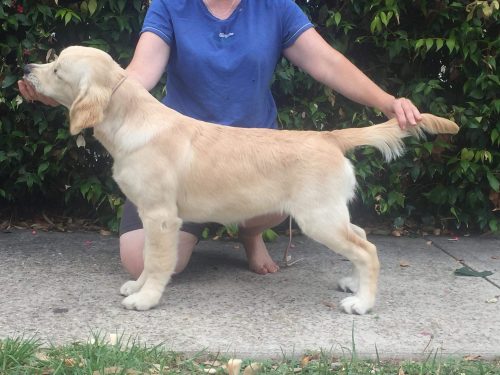 Kitty almost 5 months of age.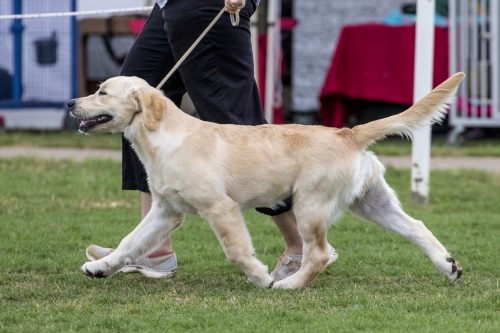 5 months on the move. Photo by Ffire photography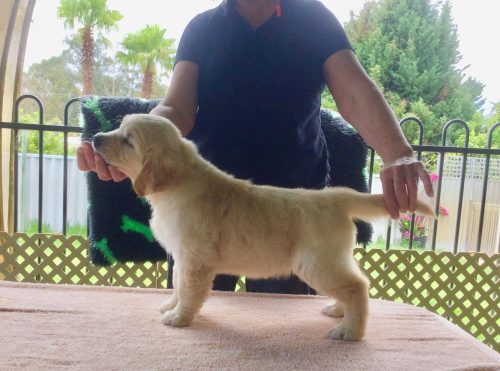 Kitty 8 weeks of age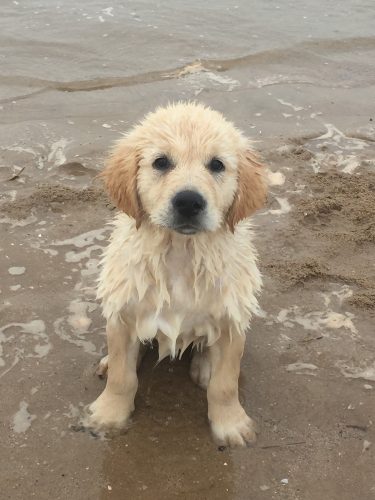 ---
Achievements:
September 2018 Golden Retriever Club of Western Australia anniversary double shows.
Show 1 Kitty wins Puppy In Show under Ms Renee Rault – L'Orfillec Golden Retrievers (Fra). Critique "Very nice bitch, nice substance and bone – beautiful head, well set on neck. Excellent top line and tail set. Excellent angulation. Excellent bone and chest for her age. She moves well. Best Puppy in Show
Show 2 Kitty wins Puppy In Show and CHAMPION puppy In Show under world renowned breeder and Judge Mr Henric Fryckstrand (Swe) Dewmist Golden Retrievers. Critique "sound construction with a lovely outline, lovely head, attractive eyes, excellent neck flowing into well laid shoulders, very good front, bone and feet, short coupled, good ribs, excellent topline on the stack, powerful rear with excellent stifles, not in full coat, moves with plenty of drive".
October 2018 Golden Retriever Club of Victoria under Judge Mrs Susanna Zubair (UK) Thornywait Golden Retrievers awards our 12 month old Kitty Best Junior In Show.                                     Critique  "Mid gold girl, not in her best coat today, but has nothing to hide. Feminine head with a lovely expression. Excellent length of neck flowing into good layback of shoulder. Balanced body with good bone and feet. Moves well with drive and extension. Nicely handled".
Kitty was bred in Perth by our wonderful friend Natasha Ryan of Happybear Newfoundland's & Golden Retrievers. We can't thank Tash and Nick enough for allowing us to bring Kitty back home to Sydney. With her spunk and love for life I'm sure this little dynamite will have a very bright future.
Pedigree of " "

Parents
GrandParents
GreatGrandParents
SIRE Ch Giltedge Cat Got Your Tongue ET
 Ch Golden Southern Son
 Ch Larbellah Take The Lead
 Golden Jubilation
 Giltedge Catch You Later
 Ch Burragundy Brace Yourself ET
 Giltedge Serena
DAM Ch Ralun Lasting Touch (AI)
 Ch Giltedge Blackwatch
 Ch Standfast Dream Ticket From Kerrien ( Imp UK)
 Yellowfetch Pixie Dust CCD
 Ch Ralun A Touch Of Silk (AI)
 NO, POL, LVA Ch Dewmist Silk Venture (Swe)
 Ralun Voguey Lady